2017-2018 Kindergarten Pre-Registration
September 2017
2017-2018 Kindergarten
Pre-registration
Please click here to pre-register.
Please see registration/screening sign-up information below.
In an effort to be considerate of parent/guardian work hours and personal time, based on feedback we have received in prior years, we have decided to cancel our Kindergarten Orientation. We have reevaluated our Kindergarten Registration Process and will no longer be asking parents to come out for an orientation. Kick Start to Kindergarten will provide the opportunity for parents to meet their child's teacher and get all questions answered prior to the start of the school year. After the pre-registration period is complete, parent/guardian(s) will receive an e-mail with information about scheduling a registration and screening appointment using our web-based scheduling portal. Please contact the school main office with any further questions.
See the link and information below to schedule your child's screening/registration appointment. Please pre-register your child above, if you haven't already done so, before signing up for your appointment.
Be sure to bring your child ready to participate in the screening process.
Please bring the following originals with you to kindergarten registration and screening. We will copy all originals and return the originals back to you.
Immunization Records
Birth Certificate (original)
Proof of Residency (deed or lease)
To schedule your appointment for your child's screening/ registration, please select the SignUpGenius button below.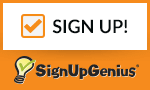 Sign up for your appointment by May 1, 2017
To expedite the process, for your convenience, print and complete attached forms and bring them with you to your appointment.